National Folk Festival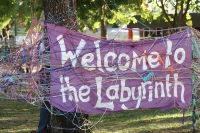 National Folk Festival, Canberra © Robyn Jay
Thousands of entertainers, from story-tellers to circus clowns, and folk singers to crafters, gather together each Easter in Canberra for a mammoth festival of folk music. No stone on the vast field of Australia's multicultural population is left unturned in this exciting themed event in a cleverly created village atmosphere.
Besides a full concert programme, dance performances, poetry readings, free music lessons, and children's entertainment, the festival offers thrilling shopping opportunities at hundreds of stalls and lots of delicious food, from paella to pizza and beyond.
Festival goers gather here from all over Australia, sharing talents and stories. If you are looking for a festival with a great community feeling and the chance to get to know people from all over the world, this is the place to go.
Venue: Exhibition Park
Date: 9-13 April 2020
Website: www.folkfestival.asn.au