North Texas Irish Festival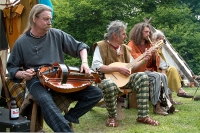 Celtic band © Sander van der Wel
Over the past quarter of a century the North Texas Irish Festival has become a March tradition in Dallas. Featuring more than 50 different bands, a blend of traditional, and modern Celtic groups and solo artists, it is now the largest musical festival in the state. Along with the music and dance performances comes a wide variety of exhibitors, workshops, plays, and demonstrations.
It is not all Irish, either. Local Scottish clans join in, demonstrating the strong bonds between Irish and Scottish heritage with the popular 'Scottish Village'. 2012 marked the 30th anniversary of the festival that started out as a small gathering in a local bar. The festival has grown exponenientially to incorporate all forms of Gaelic culture - top Dallas chefs demonstrate how to make classic Irish dishes, gaelic sports are demonstrated and played during the festival, and for those who don't prefer beer there is Callahan's Fine Wine Bar.
An unusual development over the years has been the addition of the small pet adoption area, started by the Animal Rescue League with a handful of dogs years ago. It's now grown to become a large part of the festival, with over 50 rescue groups involved and not just dogs, but also cats, rabbits and other small furry animals available for adoption by festival-goers.
Venue: Fair Park
Date: 7 - 9 March 2020
Website: www.ntif.org