National Championship Indian Pow Wow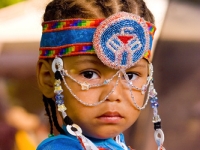 This annual Indian Pow Wow has been a highlight of the Dallas calendar for more than 40 years. Several hundred Native Americans, representing dozens of tribes from across the United States, take part in the two-day Pow Wow.
Colourful tribal dance contests, traditional arts and crafts, tepees, ceremonies, food booths and much more characterise this event that not only brings tribes together, but also provides an intriguing insight for visitors into Native American culture. Some of the crafts on display and for sale at the Pow Wow include locally-made jewellery, pottery, baskets, paintings and other artwork, rugs, clothing, and more. Popular and authentic food choices include fried bread, Indian tacos (different from the tacos most are familiar with), and corn soup.
Most popular are the dance contests in which dancers, clad in feathers, buckskin, bells and beads, compete for prizes in 18 different categories, in age groups ranging from toddlers to grannies. Admission to the event is free, and parking is plentiful and cheap.
Venue: Traders Village, 2602 Mayfield Road, Grand Prairie
Date: September 2015 TBA
Website: http://tradersvillage.com/grand-prairie/events/51st-annual-national-championship-indian-pow-wow