L'Escalade Celebration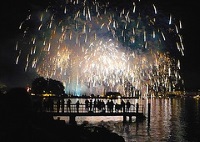 L'Escalade © Lionel Martinez
No Geneva festival rivals the pomp and ceremony of L'Escalade, one of the oldest and most popular events in the city. A patriotic celebration of the city's independence, it's the Genevese equivalent of Guy Fawkes and commemorates the vain attempt by the Duke of Savoy's troops to invade the old walled city in 1602.
Mother Royaume is the most famous legend, with her cauldron of hot vegetable soup emptied out on attackers below. A custom includes selling cups of soup in streets, with windows of sweet shops displaying chocolate and nougat pots decorated with Geneva colours and marzipan vegetables.
The highlight of the festival is the torchlight procession through the Old Town by participants in period costume, with musketeers, horsemen, pipers and drummers, accompanied by crackers and gun salutes. Many people appear in fancy dress in the boisterous carnival atmosphere.
Venue: Old City
Date: 6 - 8 December 2019
Website: www.compagniede1602.ch