London Marathon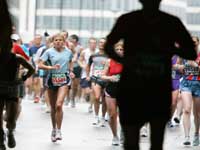 Flora London Marathon © onEdition 2006
Commonly known as simply the London Marathon, the Virgin Money London Marathon is a 26.2 mile (42km) race from Greenwich Park to the Mall which passes by many famous London landmarks including the Cutty Sark, Canary Wharf, the Tower of London, Buckingham Palace, and Big Ben.
Around 30,000 professional and amateur runners compete every year, many dressed in fancy dress to raise money for charity. The route is lined with spectators and the race has a very festive atmosphere. As it is an extremely popular marathon, it is worth booking as far in advance as possible.
Venue: Starts in Greenwich Park and ends in the Mall.
Date: 26 April 2020
Website: www.london-marathon.co.uk