Havana Jazz Festival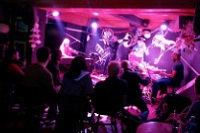 Havana Jazz Festival © Vitor Cheregati
Held every year, Havana's feast of jazz is eagerly awaited by fans around the world, offering four days of concerts, jam sessions and workshops. It claims to be the ultimate Latin music event in the world and its popularity speaks for itself.
Past jazz masters who have attended the festival include Dizzy Gillespie and Charlie Haden. The star of the show is Cuba's own famous Chucho Valdes, who usually performs with other local artists and international guests in the grand finale concert on the final night.
A Gold Access Havana Jazz Festival Pass grants the bearer access to all performances and venues. The festival marks a good time to visit the city of Havana because there is a buzzing atmosphere and many touristic activities operate on a discount.
Venue: Hotel Rivera and others
Date: 12 - 19 January 2020
Website: www.jazzcuba.com