Independence Day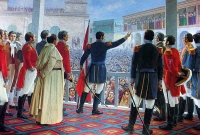 Juan Lepiani's 'San Martín proclaims the independence of Peru' © Juan Lepiani
Peruvians celebrate the anniversary of their independence from Spain with great patriotic gusto throughout the country, but particularly in Lima, where flags fly high and the fun starts the night before the official ceremonies with dancing and folk music filling all the city's parks and plazas. General Jose de San Martin, known as the liberator of Peru, announced the country's independence on this date in 1821. At dawn on Independence Day a 21-cannon salute marks the start of the ceremonies, which include a military parade downtown and a special service in the Lima Cathedral. Every year the president of Peru addresses the nation on Independence Day, giving the masses a review of how the country has progressed to date; if a new president has been elected they assume duties on Independence Day and the speech is their first official address to the nation. The national flag is flown all over the city for the whole month of July, which is a time of heightened patriotism and celebration. Tourism increases over this period and local businesses do a booming trade and anticipate the festival eagerly.
Venue: Throughout the city.
Date: 28 July annually.