Winter Festival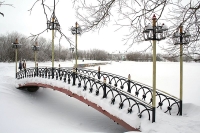 A Winter Landscape in Russia © Nelson Correia
Celebrated over the Christmas and New Year period, the Russian Winter Festival combines different celebrations and holidays and is an opportunity for visitors to enjoy Russian customs and festivities, such as traditional folk music, troika rides, and games, Russian food and lots of vodka.
There are also musical and dance performances, and characters dressed as popular Russian mythological figures are there to greet the crowds. The Winter Festival is a celebration of all things Russian, along with outdoor ice rinks coming alive and lights glittering on snowy streets.
Venue: Izmailovo Park
Date: Mid-December to mid-January annually.