Bacchanal Jamaica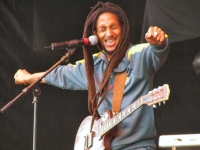 Julian Marley © Maykl Tafari
Bacchanal Jamaica is the biggest festival in the country, jam-packed with spectacle, pageantry and revelry. It's a good-natured annual bash that takes the island's music into the streets of Kingston. Since the first carnival in 1990 the event has grown phenomenally, attracting tens of thousands of costumed merry-makers and spectators who congregate over the carnival weeks and line the route for the final Parade.
The carnival, or bacchanal, lasts for several weeks from February through to April every year. There is always a theme for the annual celebrations. Other centres on the island also hold carnival events, and contestants from the different parishes vie for the title of 'Soca Monarch', dancing in a special competition. The carnival events are fun and worth attending but the real magic of Bacchanal Jamaica is that the whole atmosphere becomes that little bit more friendly and celebratory during the festival months. In a nation which is famed for its singing, dancing, laid-back friendliness and partying, this is saying something.
Check the official website below for dates and events and to get ideas for costumes.
Venue: Liguanea Park
Date: 19 April 2020
Website: www.bacchanaljamaica.com