Carols in the Domain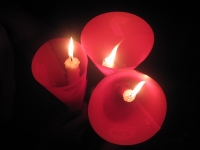 Carols in the Domain © Caz and Craig Makepeace
Carols in the Domain is Australia's largest and most loved Christmas celebration. Every year, family and friends come together at this spectacular event to celebrate the magic and joy of Christmas.
The Domain, in the heart of Sydney's Royal Botanic Gardens becomes a hive of activity as people from all over Australia join in and sing along to their favourite Christmas Carols. As the sun sets, the Domain transforms into a sea of flickering candlelight.
Australia's best talent takes to the stage in this Christmas spectacular, showcasing the very best of the Australian entertainment industry, from theatre, opera, and recording artists, to the most beloved television personalities.
Venue: The Domain, Sydney Botanical Gardens
Date: December 2019
Website: www.carolsinthedomain.com