Rodeo and Livestock Show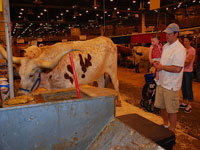 Houston's raunchy rodeo is the largest in the world, and its accompanying livestock fair second in size only to the State Fair of Texas in Dallas. This three-week spectacular not only includes the world-beater rodeo competition and about 35,000 livestock entered in different categories, but it also offers hundreds of other agricultural-related activities from pig races to pony rides, and premier concert entertainment. The livestock show includes auctioning off the animals, and the public is invited to watch the fast-paced and exciting auctioning process. There is also a horse show, similar to the livestock show.
A wide variety of food is available to visitors, including, of course, lots of barbecue. Prizes are handed out to food vendors in several categories: best breakfast food, best value food, best food-on-a-stick, classic fair food, most creative food, best fried food, best new flavour, and best dessert. It is the world's largest livestock exhibition, the world's richest regular-season rodeao, and is described as the Southwest's premier entertainment event. Justin Bieber, Mary J. Blige, the Black Eyed Peas, Faith Hill, Enrique Iglesias and John Mayer are only a few of the big names that have performed here over the years.
Venue: Reliant Park
Date: 3 - 22 March 2015
Website: www.hlsr.com