Le Salon du Chocolat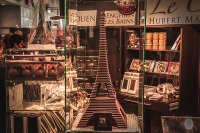 A chocolate model of the Eiffel Tower © Tasaka Sama
A dream for chocoholics, the large convention centre beneath the Louvre hosts an annual festival in celebration of chocolate. There are tastings and chef demonstrations at a huge variety of international chocolatier stands, with special offerings galore.
There are opportunities to sample and buy products such as truffles, chocolate-dipped fruit kebabs, hot chocolate, and cakes. Its annual hit fashion show features chocolate-inspired creations, alongside chocolate sculptures and art.
Past exhibitions have included the history of chocolate, books on chocolate and desserts, and an antique collection of teapots used exclusively for hot chocolate. Chocoland for children entertains with chocolate makeup and other delicious activities, meaning it's a great day out for the whole family.
Venue: Metropolitan Pavillion & Altman Building
Date: 28 October—1 November 2021
Website: www.salon-du-chocolat.fr