Feast of the Black Nazarene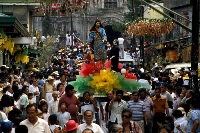 Philippine Festival © ricephotos
Thousands of pilgrims from all over the country flock to Manila to be part of the procession accompanying the Christ statue known as the 'Black Nazarene' through the streets, in the hope this will protect them from harm and ensure health, wealth and happiness for the coming year. The sacred statue is a life-sized dark wooden sculpture of Jesus Christ carrying the cross and represents passion and suffering.
The raucous cacophony of the procession usually lasts for about six hours. Traditionally all devotees marching along with the carriage bearing the statue and the colourful brass bands have to be barefoot. Traffic is hugely disrupted in the city centre for the duration. In 2013, about 500,000 barefoot devotees marched in the procession and something like nine million spectators gathered to watch. Every year there are some casualties resulting from the jostling of the crowds, and a few deaths have occurred from trampling.
The procession traditionally winds along the streets of the Quiapo district, but the route is sometimes altered to prevent overcrowding and to allow new neighbourhoods the honour. The procession of the Black Nazarene is taken extremely seriously by much of the population and it is a fascinating religious ceremony which has captured the imagination of many travellers.
Venue: From Quipo Church and through the streets of Quipo
Date: 9 - 13 January 2017