Changing of the Guard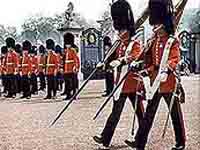 This is one of the oldest and most familiar of all royal ceremonies. Every other day, a throng of tourists gather outside Buckingham Palace to watch the exchange of duty between the Old Guard and the New Guard. The Foot Guards wear their traditional uniforms, complete with bearskins, but carry modern weapons as their role is practical as well as ceremonial. The handover is accompanied by a band from one of the five Foot Guard regiments who play anything from traditional military marches to pop tunes. Guard Mounting also takes place daily at the same time at Windsor Castle and the Tower of London. The Changing of the Queen's Life Guards involves the handover of duty between the two mounted regiments, the Blues and Royals, and the Life Guards. When the Queen is in residence (most weekdays), it is more flamboyant as the Captain of the Guard and trumpeter lead the procession.
The Changing of the Guard takes place daily: at 11:30am (Buckingham Palace); and 11am Monday to Saturday, and 10am on Sunday (Horse Guards Parade).
Venue: Buckingham Palace and Horse Guards Parade
Date: Daily
Website: www.changing-the-guard.com