Pink Palace Crafts Fair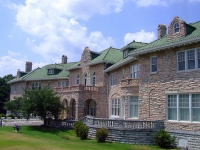 A great outing for avid shoppers, the annual craft fair in aid of Memphis' Pink Palace Museum attracts tens of thousands of visitors. The event, hosted at the Audubon Park, includes a juried show and the sale of works by about 300 artists, and has been successful over the years as a means of promoting crafts and homemade goods, from rugs to soap to food. A petting zoo, children's train, face painting, spin art and pinch pots are available to keep kids amused.
In addition to crafts and art works on display and for sale, there are also demonstrations of various crafting techniques such as weaving, spinning, glass blowing, wood turning, bee keeping, candle making and more. A Culinary Crafts tent provides visitors with many delectable treats to snack on such as kettle korn, doughnuts, fudge and more, while the Traditional Tent focuses on more traditional crafts and the Fine Crafts tent displays crafts that border on being artwork. Live music entertains visitors for the duration of the fair.
Venue: Audubon Park
Date: 10 - 12 October 2014
Website: www.memphismuseums.org