Prague Spring International Music Festival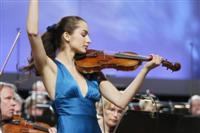 Prague Spring has become one of the most prestigious classical music festivals in Europe, presenting exceptional artists, orchestras and chamber music ensembles of international acclaim as the summer concert season opens in Europe. Every year the festival is traditionally opened and closed by the Prague Symphony Orchestra. The festival showcases the best of contemporary classical music but also remembers important anniversaries in the music world by including works by the composers concerned. Only artists and orchestras of the highest quality are invited to perform in the Prague Spring and it is considered a great honour to perform on this platform. Famous artists that have appeared at the festival include Sviatoslav Richter, Herbert von Karajan, Boris Pergamenschikow, Julian Lloyd Webber, Lucia Popp, Kim Borg, Sir Colin Davis, Lorin Maazel, Dmitry Sitkovetsky, and Leonid Kogan, among many others.
The Prague Spring Festival's traditional venue is the Rudolfinum concert hall, a venerable Neo-Renaissance building with an excellent auditorium, situated on the bank of the Vltava River. Prague's ornate Municipal House, is also a popular venue, and has a larger seating capacity. However, performances take place in various venues throughout Prague.
Date: 12 May to 3 June 2015
Website: www.festival.cz/en