Chinese New Year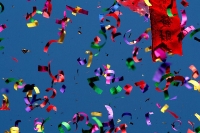 Chinese New Year NYC © Jeffery DelViscio
New York City's Chinatown is the biggest in the United States and the site of the largest concentration of Chinese people in the western hemisphere. A visit to this part of New York feels as if one is actually in the country itself.
It's a must-see on the opening day of the Chinese New Year celebrations, with performers dancing in the streets in colourful costumes which precede a parade of dragon floats. Traditionally, the New Year marks the beginning of the spring and the rebirth of the earth.
It is a time for family togetherness, beginning with the 'sweeping of the grounds'. This is a spring clean meant to rid the old and the evil, followed by festivities and feasts. Chinatown has over 200 restaurants, representing cuisine from all regions of China.
At New Year, the suspicious should eat a whole fish. To the Chinese, this represents togetherness and abundance. Also, don't chop one's noodles, as their length represents long life. Colour is important at New Year, the luckiest being red, orange, yellow, gold, and pink. Black and white are unlucky.
Venue: Starting at Mott and Hester Street
Date: 25 January 2020
Website: www.chinatown-online.com