Smithsonian Folklife Festival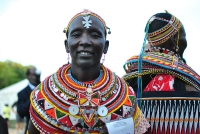 Smithsonian Folklife Festival © angela n.
The Folklife Festival is a unique Washington DC tradition and is the largest annual cultural event in the city. It is a living cultural exhibition that celebrates the heritage of different states and regions, as well as international communities, and includes music and dance performances, craft demonstrations, storytelling, exhibits, workshops, and traditional food and cooking demonstrations. Festival-goers should be prepared to spend plenty of time outdoors in the hottest part of the year, but visiting the air-conditioned Smithsonian Museums is a good way to cool off and further indulge all cultural impulses. Check out the official website listed below for more details.
Venue: National Mall
Date: 26 June to 7 July 2019
Website: www.festival.si.edu