Rock n Roll Marathon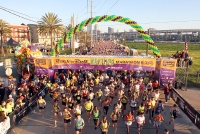 Marathon runners © Mike Spille
Music lovers take to the streets each year when thousands of runners descend on the city to run the Rock n Roll Marathon (or a half marathon), vying for trophies and prizes with all proceeds of the race going to charity.
The race is part of the Rock 'n Roll Marathon series and is well-organized and smoothly run. The runners are encouraged by the strains of more than 50 bands belting out their best from about two dozen stages set up along the marathon route.
The courses for both the marathon and half marathon are not too difficult, and the weather in April in Tennessee is perfect for running. The day also includes the spectacle of a cheerleading contest and the final of a Kid's Marathon. It all culminates in a massive evening concert featuring a top country music star, with free entry for runners.
Venue: The marathon begins near Centennial Park in West End Avenue, continues through downtown and finishes at the Coliseum
Date: 25 - 26 Apr 2020
Website: www.cmmarathon.com