Northwest Folklife Festival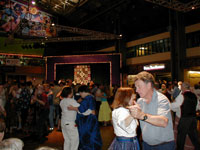 Celebrating the traditional arts of North America, the Folklife Festival has been running for more than forty years, and in that time has grown to become the largest in the country, attracting people from around the world to take part in or to enjoy the variety of cultures presented. Different ethnic traditional acts are staged, including dance and music performances from over 100 countries, and storytelling. There is also an art and crafts market, an international food village, dance and music workshops, folklore exhibits, and hands-on educational opportunities for children to learn about other cultures.
Some of the attractions included in addition to performances and displays arean Instrument Petting Zoo, where a wide variety of instruments are available to look at, handle, and attempt to play, a rhythm table with all sorts of percussion instruments available to play with, ziplines, putter making demonstrations, wooden boat-building demonstrations, a Seafair tent that teaches visitors how to build a boat out of milk bottles, and then attempt to race rival milk bottle boats, and many more. The Living Green Courtyard hosts demonstrations and talks on ways to live green, including composting, recycling, reusing, and more.
Venue: Seattle Center
Date: 22 - 25 May 2015
Website: www.nwfolklife.org/festival