Macy's Thanksgiving Day Parade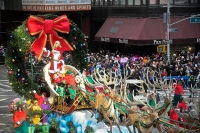 Macy's Thanksgiving Day Parade © tweber1
Originally a harvest festival, Thanksgiving is celebrated across the United States as families get together and feast on huge helpings of roast turkey. Macy's Thanksgiving Parade is one of the Big Apple's most dynamic and colourful events, taking celebrations one stage further.
With origins dating back to the 1920s, the city's European immigrants decided to celebrate the American Thanksgiving Day holiday with the sort of festivities they knew in their homelands. Hundreds of people marched from 145th Street to 34th Street in costume, accompanied by floats, live animals, and musicians.
The parade attracted over 250,000 spectators and quickly became an institution. Today, it features clowns, marching bands, and the Floats and Falloons, by far the day's biggest attraction. Towering over crowds, they are a Macy's hybrid of cold air balloons and floats. Famous characters include Angelina Ballerina, the Statue of Liberty, and Santa Claus.
Starting on 77th Street, it proceeds down Central Park West to Columbus Circle, then down Broadway to Macy's at 34th Street, and finally finishing on Seventh Avenue. Good places to watch it include Times Square and Columbus Circle.
Date: 28 November 2019
Website: social.macys.com/parade2010/#/home