Vienna Ball Season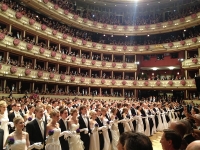 Opera Ball in Vienna © Gryffindor
Vienna is the only city in the world where balls still dominate the social calendar during the winter season. A Viennese ball is a unique opportunity to experience the sophisticated charm of the city and its famous eponymous waltz.
The official ball season offers about 300 public balls for every taste and pocket, of which the most famous are the Opera Ball, the social elite highlight of the European ball season, the Philharmoniker Ball, and the glamorous Kaiserball at the imperial Hofburg Palace.
The Kaiserball is the traditional opener and is a glittering New Year's Eve celebration attracting tourists and locals alike. The season officially lasts from New Year's Eve until Ash Wednesday the following year, but balls can occur up until June. Numerous rental services in the city specialise in ball gowns and formal wear.
Venue: Various
Date: December 2019 to February 2020