Vienna Festival (Festwochen)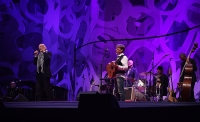 Opening evening of the Vienna Festiva © Manfred Werner
One of Vienna's summer highlights, the Vienna Festival (Wiener Festwochen) is a cultural spread of art, music, dance, theatre, and opera, performed by top international artists at main venues around the city.
The festival has been held since 1951 when the four Allies still occupied Vienna after World War II, and remains a proud demonstration of Austria's artistic talent. There are a huge variety of events, ranging from classical to modern, with shows, concerts, and exhibitions for every taste.
The annual International Music Festival coincides with the Vienna Festival, traditionally opened by the Vienna Philharmonic Orchestra. For a full Vienna Festival programme check out the official website listed below.
Venue: Various
Date: 15 May - 21 June 2020
Website: www.festwochen.at