Mummer's Parade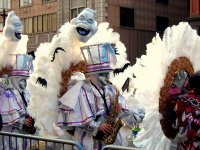 Mummer's Parade © Tyler McHenry
With its origins in the 1800s, the Philadelphia Mummers Parade is the traditional celebration of the New Year and is one of the country's oldest folk customs. Mummery in America is as unique to Philadelphia s Mardi Gras is to New Orleans.
Decked out as masked and costumed merrymakers, various groups of mummers compete for originality, themes, and outfits in a colourful extravaganza of feathers, sequins, elaborate floats, music, and dance.
The parade consists of three divisions: the Comics, who are unstructured division of dancing clowns and satirical performers; the outrageously dressed Fancy Costume Brigade; and the String Bands with marching musicians and precision drills.
Venue: Broad Street
Date: 1 January 2020