Three Rivers Arts Festival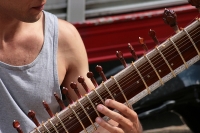 Three Rivers Arts Festival © MissMessie
The Three Rivers Arts Festival is a nearly 50-year-old tradition in downtown Pittsburgh, bringing art to the people with a mix of live music, theatre, dance, visual arts, and fine food. A programme of free concerts draws the crowds to Point State Park.
All galleries in the downtown area exhibit their finest. However, most popular is the vibrant artist market where contributors from all over the country sell their wares in more than 15 different mediums.
The beauty of the market is that it changes six times during the festival, featuring the work of 150 artists at a time. One visit is not enough to seek out that special treasure. For more information check out the official website listed below.
Venue: Point State Park and various locations throughout downtown Pittsburgh
Date: TBC 2020
Website: www.3riversartsfest.org