Santa Fe Opera Season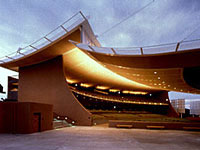 Every July and August since 1957 opera lovers from all over the world have converged on Santa Fe to enjoy a top class repertoire performed by outstanding talents in what is surely the world's most stunning setting for an Opera House. The Santa Fe Opera is sited on a magnificent mesa, seven miles (11km) north of the city.
The adobe theatre, blending with the desert, is open-sided, affording a panoramic view of the Jemez and Sangre de Cristo Mountains. Nature and art fuse into an awesome experience for the appreciative audiences. Some of the opera greats who started their careers in Santa Fe are Susan Graham, William Burden and Charles Castronovo.
Venue: Santa Fe Opera House
Date: 3 July to 29 August 2015
Website: www.santafeopera.org