China Shanghai International Arts Festival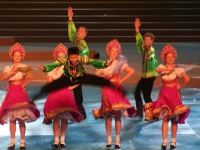 Shanghai becomes the focus of art fundis the world over during this month-long festival hosted by the Ministry of Culture. This festival, the only national level international arts festival in the country, has been held annually since 1999 and aims to showcase the best of performing arts from all over the world as well as display China's considerable artistic talents. The varied programme features more than 150 performances covering everything from symphony orchestras, dance, and opera to acrobatics, magic, and drama. As an example of what's on offer, the 2012 festival programme included symphony orchestras from San Francisco, Germany, Russia, and Australia, a Taiwanese magician, a dance troupe, and puppet theatre from Britain, an Irish choir, Peking opera, Chinese National Ballet, Italian opera, and ethnic dance from Yunnan, amongst many other things. There are also mass public events and activities, and arts and crafts stalls and the like pop up all over the city. Those planning a trip to Shanghai should bear in mind how vibrant and exciting it is to visit during the International Arts Festival.
Venue: Various venues throughout the city.
Date: 16 October to 15 November 2015
Website: www.artsbird.com