Shanghai Tourism Festival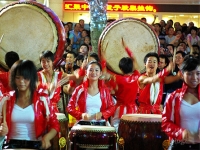 The massive Shanghai Tourism Festival, also called the people's festival, showcases not only all the city has to offer visitors, but is the perfect event for locals and foreigners to discover the fascinating Chinese culture and history. The opening ceremony takes the form of a grand-scale parade of floats and international performance troupes telecast live to the whole country. In 2011, the opening parade consisted of 21 enormous floats and 30 performer teams which captivated crowds, drawing an audience of tens of thousands. The parade has a very mardi gras feel to it with sparkling costumes, dancing and festivities. The floats tour every district in Shanghai after the opening ceremony and audiences vote on their favorite. Millions of locals and visitors participate in the hundreds of events and activities presented at the festival, ranging from Chinese cooking classes and bicycle tours, to fireworks displays. Like the National Arts Festival in Shanghai, the Shanghai Tourism Festival enlivens the city and generates a wonderful festive atmosphere making it a great time to visit the city. Especially as many museums, restaurants and other tourism attractions offer up to 50 percent discounts during the festival!
Venue: Various venues throughout the city.
Date: 15 September to 6 October 2012