Japanese Cherry Blossom Festival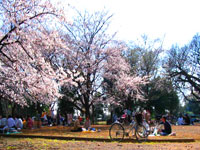 Hanami party © Patrice Neff
Heralding the beginning of spring, cherry trees burst into a riot of pink and white blossoms all over Japan and the spectacle is so lovely that this is the most popular time to visit the country. Tokyo attracts thousands of holidaymakers daily for cherry blossom viewing (hanami).
The cherry blossom, or sakura, is Japan's national flower and a symbol of the country. For many years, the Japanese people have celebrated the cherry blossom annually. Depending on the local conditions, it usually starts in Okinawa in January, reaching Kyoto and Tokyo in late March to early April, and Hokkaido in late May.
They celebrate this popular festival with hanami parties under the trees and picnics, drinking, singing, and dancing. Street stalls are set up and musicians serenade the merry picnickers, many of whom are decked out in outrageous costumes and masks.
Ueno Park is Tokyo's most beautiful spot for hanami parties and it is particularly romantic to enjoy the riot of pink and white from a paddle boat on the water. The Cherry Blossom Festival is a big draw for tourists who want to see Japan at its most beautiful and vibrant.
Venue: Various
Date: March and April annually