Stockholm Pride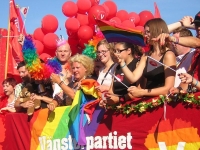 Stockholm Pride Parade © Sigurdas
The largest Pride celebration in Scandinavia is the week-long rainbow carnival that turns Stockholm into a free zone for the gay and lesbian community. The action is centred on the largest island, Södermalm, where the Pride Park arena is set up at Tantolunden featuring a stage, restaurants, shops, and varied attractions. The highlight of festival week is the spectacular, colourful parade through the city, usually starting at 3pm on the Saturday.
In recent years about 60,000 people participated in the Pride Parade, and as many as 600,000 came to offer their support. The festival includes many exhibitions, lectures, seminars, debates, theatrical performances, and film screenings, which make it an interesting academic and artistic event (as well as a huge party). Famous international musicians and artists often perform at the event. Tickets for Stockholm Pride can be purchased online via the official website listed below. Many of the city's gay clubs host their own celebrations to mark Stockholm Pride, with themed parties and pageants. As the festival is wildly popular, it is recommended that travellers book tickets and accommodation far in advance to avoid disappointment.
Venue: Pride Park (Tantolunden), Pride House (Medborgarplatsen) and various other venues around the city. The parade starts at Blasieholmskajen next to the Grand Hotel and the National Art Museum and ends at Pride Park.
Date: 29 July - 3 August 2019
Website: www.stockholmpride.org