Nobel Prize Day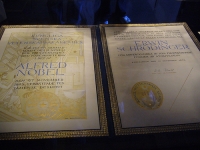 Nobel Prize © jamieca
Although it is not open to the general public, Nobel Prize Day in Stockholm has the eyes of the world on this northern city when the most prestigious awards for medicine, literature, physics, chemistry and economics (the coveted Peace Prize is presented in Oslo, Norway) are presented each year by the King at the Stockholm Concert Hall, followed by the lavish Nobel Prize Banquet at the City Hall.
The Nobel Prize is the legacy of Alfred Nobel, a Swedish chemist and the inventor of dynamite, who left his huge fortune as a prize-fund to reward those who improve human life through contributions to science or humanitarianism. The award winners are announced in October and the presentation takes place on the anniversary of Nobel's death. Each recipient of the award presents a lecture in the days prior to the award ceremony. These lectures, the ceremony, and the celebratory banquets are prestigious and important international events which attract many world leaders and other famous people, so security inevitably tightens up around the official venues in Stockholm and some delays at airports and general traffic disruptions can be anticipated.
Venue: Stockholm Concert Hall, Hötorget 8, Stockholm, Sweden.
Date: 10 December, annually.
Website: www.nobel.se