US Open Tennis Tournament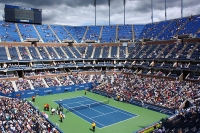 US Open Tennis Tournament © manalahmadkhan
The top names and seeds in international tennis vie for victory in the final Grand Slam event of the season in New York each year. Singles, doubles, mens and ladies and mixed doubles, make up the five separate tournaments within the championship.
First played back in 1881 in the State of Rhode Island as a men's singles event only, the tournament occurs annually at Flushing Meadows-Corona Park in Queens. It wasn't until 1968 that the US Open took the shape and structure it has today.
Those wanting tickets for big games are advised to book as far in advance as possible. For more details, check out the official website listed below.
Venue: Arthur Ashe Stadium, Flushing Meadows
Date: 26 August to 8 September 2019
Website: www.usopen.org