Gay Pride Week and March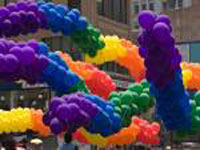 Rainbow flags flutter in Greenwich Village during New York's Lesbian and Gay Pride Week, with numerous events arranged to commemorate the Stonewall Riot. Highlights of the week's festivities are a massive rally, the dance on the pier and the culminating march.
Venue: The march which follows a route along 5th Avenue, right onto 8th Street, on to Greenwich Avenue and along Christopher Street in Greenwich Village.
Date: 8 - 16 June 2012
Website: www.cnypride.com