Gay Pride Week and March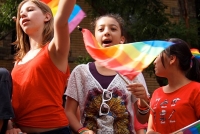 NYC Pride Parade © May S. Young
Rainbow flags flutter in Greenwich Village and crowds of people dress up in outrageous costumes during New York's Lesbian and Gay Pride Week, with numerous events arranged to commemorate the Stonewall Riot and to show support for the LGBT community of New York City.
Highlights of the week's festivities include a massive rally, the dance on the pier, and the culminating march. Some huge sponsors get involved in Pride Week and people travel from all over the world to participate.
New York City has a vibrant gay community year-round and many locals come out in support of the community during the many events. For more information and a full programme of events, check out the official website listed below.
Venue: The march which follows a route along 5th Avenue, right onto 8th Street, on to Greenwich Avenue and along Christopher Street in Greenwich Village.
Date: TBC 2020
Website: www.nycpride.org