King's Day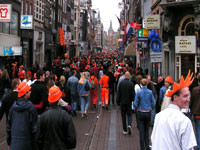 Queen's Day © Bob Tubbs
The king's birthday is a very festive occasion in the Netherlands, and Amsterdam goes all out to celebrate. The city stages a street party that starts the night before and keeps going throughout the next day. Traditionally, attendees wear orange (the Dutch royal family is the House of Orange) and ensure they have a beer in hand.
The party also resembles a giant jumble sale. That is, street trade proceeds without regulation for the day, allowing people to display their unused and unwanted goods and potentially sell them to passers-by. Bargain hunters and party seekers will enjoy themselves, especially if the sun shines. The occasion includes live music and many street performances.
Travellers should also look into spending the day on a boat. Amsterdam's canals provide a wonderful vantage point from which to take in the festivities, and allow visitors to avoid some of the crowds and queues on land. That said, boat traffic can become heavy on King's Day.
Venue: Most of the action takes place at Vondelpark in the city centre.
Date: 27 April 2020