Berlin Christmas Markets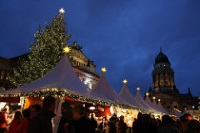 Berlin Christmas Market © yeowatzup
During the festive season, more than 40 Christmas markets pop up around the city of Berlin. They attract visitors with traditional arts and crafts, Christmas lights, decorations, and the smell of glühwein, gingerbread, and roasted nuts.
Santa Claus, music and dance, fairytales, and puppetry are there to entertain the children while shoppers can browse through antique toys and doll makers, candles, woodwork, and a variety of traditional goods.
The suburb of Spandau allegedly has Europe's largest Christmas market, where stalls spread throughout the Old Town and provide a traditional experience. The Christmas markets of Germany are becoming increasingly popular as people yearn for a less commercial experience of the season.
They enjoy the nostalgia and charm of traditional gifts and decorations. Nothing is mass-produced and the atmosphere is old-fashioned. Berlin has some of the best of these markets in Germany, drawing flocks of visitors every year.
Venue: Various
Date: December annually
Website: www.germany-christmas-market.org.uk