New Years Eve in Amsterdam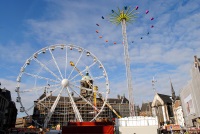 Funfair on Dam Square, Amsterdam © Nikthestoned
Locals and tourists pack into central Amsterdam on New Year's Eve, then head to the city's many bars and clubs to continue celebrating. Dam Square and the Leidseplein draw most of the revelry and, as midnight approaches, fireworks light the sky.
The Oosterdok area usually hosts the biggest event, with the VOC Ship, Science Centre NEMO, and Scheepvaartmuseum forming a backdrop for festivities, free of charge. These open-air celebrations are a treat for the whole family, and are the occasion's main highlight.
Visitors can expect a festive, friendly mood in the city's bars, and a seedier atmosphere in the Red Light District. Many nightclubs offer New Year specials with top DJs, music concerts, and performances, and there are also a number of quirky parties for those who like to dress up.
Venue: Various venues throughout the city
Date: 31 December annually