Arrival of St Nicholas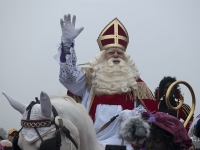 Arrival of Santa Claus © Wouter Engler
If you are travelling to Amsterdam with kids in November, witnessing the arrival of Santa Claus in the city is a must. The true story of Santa Claus began in the 3rd century when St Nicholas, the Bishop of Myra, dedicated his life to helping the poor and needy.
Through the centuries, many stories and legends about St Nicholas pass down from parents to children. But he is best known today for giving presents to children, with his birthday commemorated on 6 December.
Usually three weeks before the celebration, St Nicholas arrives on a ship and rides a white horse to Dam Square. His coming is a festive occasion, with musical bands creating a lively atmosphere and an accompaniment of acrobats, clowns, and animals delighting the children.
There are many theatrical performances, puppet shows, and arts and crafts stalls in honour of his visit. About 300,000 people line the streets to greet the famous saint every year and it is a big occasion on the calendar of children's events in the Netherlands.
Venue: Central Station, Amsterdam
Date: TBC
Website: www.stnicholascenter.org