Kirstenbosch Summer Sunset Concerts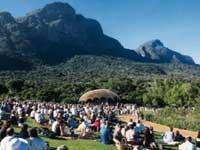 Kirstenbosch Summer Concert © Kirstenbosch Gardens
Bring family and friends every Sunday afternoon to relax on the lawns with a picnic and a glass of wine in Kirstenbosch as the sun sets behind the mountain, while listening to a mixed selection of classical and contemporary music. The setting provides one of the most spectacular concert venues in South Africa, with the stage framed by the backdrop of Table Mountain and all around the well-kept beds of the Kirstenbosch Gardens. The Kirstenbosch Botanical Gardens were voted by National Geographic as one of the best places in the world to have a picnic, and the experience is only improved by the tunes of some of the country's best bands and musicians floating on the balmy summer air. Kirstenbosch also occasionally hosts famous international artists, and there have been past performances by the likes of Bryan Adams, Michael Buble and Xavier Rudd. For a full programme of who is performing check out the official website listed below. Ticket prices range depending on who is performing. As there are no assigned seats it is a good idea to arrive early to set up a good picnic spot near the stage and enjoy a stroll around the beautiful gardens before the show begins.
Venue: Kirstenbosch Botanical Gardens
Date: November to April annually.