Kirstenbosch Summer Sunset Concerts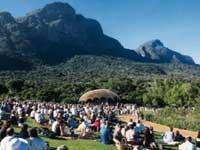 Kirstenbosch Summer Concert © Kirstenbosch Gardens
The Kirstenbosch Summer Sunset Concerts are idyllic experiences set beneath the gorgeous expanse of the mountains. Relaxing on the lawns with a picnic and a glass of wine, listening to a mixed selection of classical and contemporary music, depending on the artist.
The gardens themselves provide one of the most spectacular concert venues in South Africa, with the stage framed by the backdrop of Table Mountain and sprawling flowers of the Kirstenbosch National Botanical Garden.
In fact, this exquisite floral wonderland was voted by National Geographic as one of the greatest places in the world to have a picnic. One can only imagine the atmosphere generated when international artists like Michael Buble, The Lumineers, and Paolo Nutini.
For a full programme of who is performing, check out the official website. Ticket prices range depending on who is performing. As there are no assigned seats, it is a good idea to arrive early to set up a good picnic spot near the stage and enjoy a stroll around the beautiful gardens before the show begins.
Venue: Kirstenbosch Botanical Gardens
Date: November to April annually