Vancouver Folk Music Festival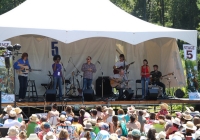 Vancouver Folk Music Festival © Rosalee Yagihara
Set in the heart of Jericho Beach Park and spread over seven stages, the annual Folk Music Festival is one of Vancouver's favourite events. For nearly thirty years, it has entertained both young and old alike.
Day, evening, and weekend tickets are available at varying prices, with early bird tickets on sale from April. Food stalls, a bustling market, and a fantastic atmosphere all add up to a wonderful weekend of entertainment.
For those who can't afford a ticket, the beach and the park on the perimeters of the fenced concert area are perfect places to picnic down and still catch some of the music. People can browse the many stalls lining the beach, selling anything from corn on the cob to First Nations crafts and jewellery.
Venue: Jericho Beach Park
Date: 17 - 19 July 2020
Website: www.thefestival.bc.ca