Carnevale Italian Festival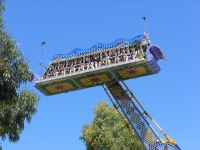 Adelaide Carnevale © Michael Coghlan
South Australia's Italian community comes out in force to demonstrate and share their vibrant culture, traditions, and delicious cuisine at this annual event. Revellers can enjoy cooking demonstrations, Italian fashion on show, admire cars and motorbikes.
They can also watch music and dance shows while filling up on tasty Italian food. Adelaide's fantastic cuisine is top notch and this event allows the city to showcase a different side of its foodie culture.
Thanks to a steady flow of immigrants since the end of the 18th century, Australia is home to many people with Italian ancestry. The favourite states for Italian Australians are Victoria and South Australia, with Adelaide's Carnevale being a fun and feisty celebration of all things Italian.
Venue: Rymill Park
Date: TBC
Website: www.carnevale-adelaide.com