Comrades Marathon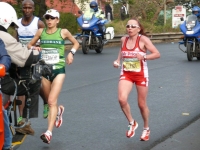 Comrades Marathon © Ben Zengerink
The Comrades is the world's greatest ultra-marathon. The gruelling, annual race covers over 56 miles (90km), and alternates between the uphill run from Durban and the downhill from Pietermaritzburg. It is a real test of physical endurance.
The winners usually take about five and a half hours to complete the course, but participants have 11 hours to finish. This historic marathon was born out of the First World War's ashes, when a South African soldier called Vic Clapham approached the League of Comrades of the Great War: an organisation established to support soldiers who had fought in the war, as well as their families.
He discussed the idea for an athletics race, insisting that if armed forces could endure forced marches over great distances, then trained athletes could easily cover the distance he suggested. Clapham encountered a lot of resistance and even ridicule. However, he finally succeeded in establishing the race in 1921. In that first year, only 16 runners managed to finish the race.
These days, runners must have completed an officially recognised marathon in under five hours, and be over the age of 20 to be eligible.
Date: 14 June 2020
Website: www.comrades.com