Brussels Beach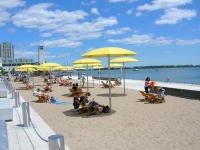 Urban beach © Scarps
Not just a beach but a real seaside resort in the heart of Brussels on the edge of the canal, Brussels Beach, or Bruxelles Les Bains, offers half a mile (1km) of fine sand, coconut palms, and waterfalls.
There is also plenty of sport, relaxation, and cultural activities. Sports like beach volleyball, pétanque, and ultimate Frisbee are available, or for the less actively inclined, a Thai pagoda houses several professional masseurs for complete relaxation.
Two stages provide entertainment in the form of live music, DJs, and shows, while food stalls and beach bars afford the chance to savour flavours from around the world. Children are well catered for with activities and entertainment that includes sandcastles, clowns, and water games.
Venue: Bassin Béco, Port de Bruxelles
Date: TBC 2021
Website: www.bruxelleslesbains.be