International Balloon Fiesta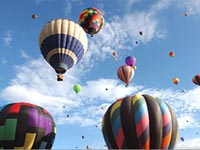 Back in 1972 Albuquerque won a bid to host the 1973 World Hot Air Ballooning Championships, and since then the floating colourful orbs have become a familiar sight in the skies over the city.
Albuquerque is now the official balloon capital of the world, and the weeklong International Balloon Fiesta held in the first week of October each year draws thousands of pilots, balloons and avid spectators from the four corners of the world. The city pulls out all the stops to ensure that the Fiesta is a memorable experience in all respects.
Venue: Balloon Fiesta Park
Date: 3 - 11 October 2015
Website: www.aibf.org