Champlain Valley Fair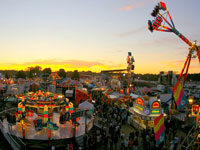 Now in its 86th year, the Champlain Valley Fair is a fun and affordable 10-day feast of live music from top performers, shows, exciting rides, commercial exhibits, agricultural displays and more. A particularly fun event for families, the fair also includes food stalls and educational activities for kids. It is possible to get right in the mix by camping on site.
The fair includes one big stage, called the Grandstand, where all the major concerts are held, with many smaller stages scattered throughout the grounds for smaller shows. A famous feature of the festival is the draft horse show, and another well-know festival component is the motorsports. There is a demo derby, a figure eight race, a hell riders show, and a tractor pulling competition. On Carload Day, visitors are permitted to load their cars as full of people as possible and pay only one entrance fee for the whole car.
Venue: Champlain Valley Exposition, 105 Pearl St, Essex Junction
Date: 28 August to 6 September 2015
Website: www.champlainvalleyfair.org