San Fermin (Running of the Bulls)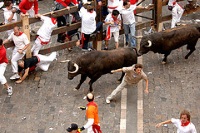 Running of the Bulls © Mike Brice
The annual festival honouring Saint Fermin is most famous for its Running of the Bulls, which takes place every morning throughout the celebrations, starting at 8am. Ernest Hemmingway brought the festival to world attention with his novel The Sun Also Rises, and millions of brave visitors have since ventured to join in the all-day-and-night merriment. It is free to take part in the Running of the Bulls and you don't have to sign up in advance.
Spectators watch from behind a sturdy fence. Those keen to participate in this adrenalin-pumping challenge should note that it can be genuinely dangerous and every year there are serious injuries. In fact, the authorities are imposing fines for reckless behaviour as of 2014, to try and make the event safer. If you aren't brave enough to take on the run, there is still plenty of entertainment to enjoy. San Fermin is a huge street party, with a carnival atmosphere and lots of live music. The festivities are concentrated in the old town, which is also where the Bull Run takes place.
San Fermin is also celebrated with bull fights (the only bull fights held in Pamplona during the year take place during the festival). The Procession of San Fermin, a giant parade, takes place on the 7th of July.
Venue: The town of Pamplona in the northeastern part of the country
Date: 6 - 14 July 2019
Website: www.sanfermin.com