Italian F1 Grand Prix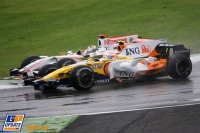 Monza was one of the first F1 tracks ever built, but for more than sentimental reasons it remains one of the highlights on the Formula One calendar as it is also the fastest track in the world. The race circuit is located 10 miles (16km) northeast of Milan, in the small town that gave the track its name.
Although one of the most popular F1 tracks in the world, it can be a little confusing to get to if you aren't a local. If you're travelling by car you should take the A1 and A4 motorway out of Milan, taking the turn onto the S36 road that leads to Monza - there are signs posted along the road prior to races to show the way. The drive takes about half an hour. There is lots of parking available at the track but it is expensive and you will need to arrange a parking permit in advance. Travelling by train is a great option as the trip from Milan Central Railway Station to Monza Station only takes 15 minutes and there are free shuttle buses to ferry people from the station to the Vedano Gate at the track. It is also possible to take trains to Monza from Verona, Turin and Florence as well as a number of other cities. Just be sure to check the train schedule because they change often.
Venue: Monza
Date: 4 - 6 September 2015
Website: www.formula1.com