German F1 Grand Prix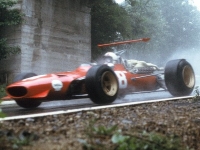 As Germany was banned from taking part in international sporting events for a few years after World War II, the German Grand Prix only became part of the Formula One World Championship in 1951. The Germans quickly made up for lost time though and very quickly distinguished their Grand Prix as one of the best in Europe. Of course, the famous Michael Schumacher, seven-time World Champion in the sport, has added to the popularity and prestige of Formula One in the country of his birth.
In 2006 it was reported that from 2007 onwards, there would be only one Grand Prix per year in Germany. Since 1995 there have been two Grand Prix every year, the German Grand Prix at Hockenheim and the European Grand Prix at the Nürburg. From 2007 onwards, the Nürburgring and Hockenheimring will alternate hosting the German Grand Prix, starting with the Nürburgring in 2007. The village of Nürburg is located about 75 miles (120km) northwest of Frankfurt, and Hockenheim is located in the Upper Rhine valley between Frankfurt and Basel.
Venue: The event is set to take place at Nurburgring in 2013 but Hockenheim is on standby in case the track is not ready.
Date: 21 July 2013 TBC
Website: www.formula1.com