Dead Sea Ultra Marathon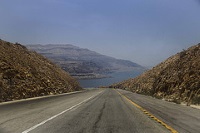 Dead Sea © Mzximvs VdB
The objectives of the Dead Sea Ultra Marathon are to promote athleticism, particularly among youth; to encourage tourism to Jordan; and to promote athletic cooperation across countries of the Middle East and the world.
One of the most gruelling races on earth takes the brave from Amman, some 2,953 feet (900m) above sea level, to the Dead Sea, the lowest point on earth. The baked tarmac provides the surface and only the fittest dare attempt it due to the climate.
The race is hosted on behalf of the Society for the Care of Neurological Patients, headed by HRH Prince Firas Bin Raad and also in aid of increasing awareness of neurological diseases and traumas.
Venue: Amman to the Dead Sea.
Date: TBC
Website: http://www.runjordan.com/