Sparks in the Park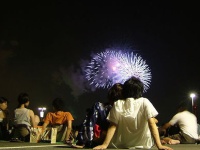 Fireworks © Mr Wabu
The grandest firework display in Wales brightens the sky above the capital, with Cardiff Castle looming memorably in the background. Held behind the castle in Coopers Filed, Sparks in the Park is organised by Cardiff Round Table with all proceeds going to charity.
The fireworks have been a feature on Cardiff's calendar for more than 30 years. Some of the favourite attractions at the event include a huge bonfire, funfair rides, live entertainment, and wonderful food and craft stalls.
Always held in November, visitors should be sure to dress warmly and take waterproof gear in case of rain. For those visiting Cardiff in November, this fun and festive event should prove to be a highly enjoyable experience, especially for family and kids. Tickets sell out quickly.
Venue: Coopers Field, Bute Park
Date: 3 November 2019
Website: www.sparksinthepark.net