The Sardine Run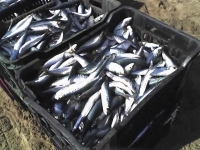 A sardine catch, South Africa © Purves, M.
Every year along the shores stretching from the Cape to Kwazulu-Natal, millions of sardines migrate from the cold waters heading to the subtropical temperatures in an awesome underwater spectacle. Comparable only to the Wildebeest land migration in the Serengeti, this is a truly extraordinary occurence.
It exists as one of the most unforgettable experiences for those brave enough to get in the water with the predators, including dolphins, seals, sharks and whales, that come out to feed on the sardines. The best way to view the Sardine Run is to get in touch with the many scuba diving companies along the South African coast and see what they suggest.
Some people also go out on boats, but the feeding frenzy can be quite intimidating. Therefore, ensure that you are with a skipper who knows what they are doing. The incredible spectacle of the Sardine Run has been featured on numerous nature documentaries and is a famous natural phenomenon.
Even from land it is often possible to sit with binoculars and watch the feeding frenzy, particularly as thousands of birds get involved in the feast too. They trail the massive schools in the sky above and make daring dives into the ocean deep.
Date: May to July annually